.Net E-commerce done right
Scalable in all aspects of the word
Proven
Relatude E-commerce is a proven e-commerce solution for both B2B and B2C e-commerce sites.
Relatude E-commerce has been designed from the start to be as customizable as possible, in order to tailor each installation to the needs of the owners. This allows it to work with your existing processes and technology.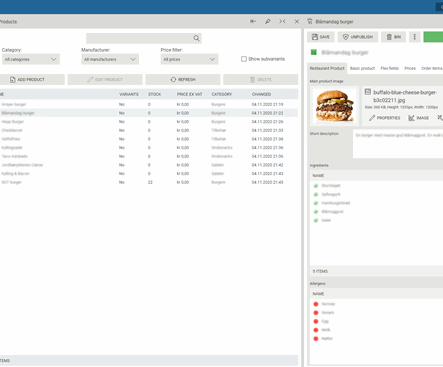 Adaptable
Relatude E-commerce has been designed from the start to be as adaptable as possible.
In all our years working with E-commerce, we have yet to see any non-trivial site to not have specific needs. Relatude was built to be quick to adapt to needs of each customer, and can be extended in a standardized way on a number of levels. No more expensive customizations living beside the E-commerce solution.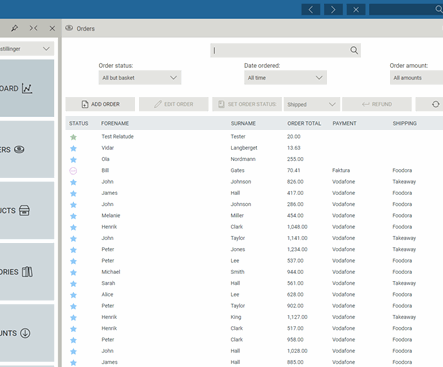 Graph structure

Utilize the full power of the Relatude Content Engine to structure your product data according to your needs. Full PIM support.

Presentation

Deliver beautiful product pages with no restrictions on design extremely fast (less than 100ms in most cases).

Marketing

Includes a full suite of tightly integrated marketing functionality: SMS and Email marketing, Forms and Segmentation.
Utilize modern web technologies
There are no restrictions on design and you have total freedom on how you implement the design. 
One of the key motivators for developers is to work with the latest technology. Relatude wants to be an API for the developer to fetch the content he/she needs, and then let the developer choose the technology on how to present it. We believe this is important to get motivated developers, but also because it is more likely it will work in 5 years.
Performance as a feature
Relatude is built with performance as one of the most important design goals. The result is an e-commerce solution with exceptional performance. at
Numerous studies have shown that response times from E-commerce solutions has a big impact on user experience and sales. In most situations, pageviews in an Relatude E-commerce site have server time of 10 - 100ms, depending on complexity.
The server time doesn't give a complete picture as the amount of javascript, size of page, network bandwidth and latency can impact the experience. But none of those factors can be solved by the E-commerce solution.
Pricing
Relatude E-commerce is offered in two ways: "Relatude E-commerce Cloud" and "License Only".
Relatude E-commerce Cloud Pricing
Features
SMB


$199

Business




$499

Pro


$999




Contact us

SSO

X

✔

✔

✔

Support: Forum & Chat

X

✔

✔

✔

Support: Phone & Email

X

✔

✔

✔

SLA
99.7%
99.8%
99.9%
Custom
Environments
1
2
3
Unlimited
AI Service Credits
0
300
700
Custom
Revision support

X

✔

✔

✔

Multiple language support
1
2
5
Unlimited
Number of edit users
2
10
50
Custom
Dedicated Resources

X

X

X

✔

Number of roles
2
Unlimited
Unlimited
Unlimited
Bandwidth
200 GB
500 GB
1000 GB
Custom
Assets / Files / Storage
25 GB
100 GB
200 GB
Custom
Number of content objects
10,000
50,000
300
Custom
Number of Content Classes
10
30
100
Custom
API calls
300,000
1,000,000
3,000,000
Custom
Email marketing module

X

X

✔

✔

Number of Forms
1
Unlimited
Unlimited
Unlimited
Number of sites
1
2
5
Unlimited
Number of Products
30
1,000
10,000
Custom
Number Of Orders Per Month
50
300
2,000
Custom
PIM

X

X

✔

✔
License only (On-prem)
This is a license model where you have a license subscription only, and you can host Relatude in your hosting environment of choice.
Features
Free


Free

Lite


1290 NOK / month

Small Business




2990 NOK / month

Professional


5990 NOK / month

Enterprise


Contact us

Support: Forum & Chat

✔

✔

✔

✔

✔

Support: Phone & Email

X

X

✔

✔

✔

Email marketing module

X

X

✔

✔

✔

Headless API

✔

✔

✔

✔

✔

Revision support

X

X

✔

✔

✔

Multiple language support

X

X

✔

✔

✔

Content synchronization

X

X

X

✔

✔

Relatude link & logo (footer)

✔

X

X

X

X

Number of installations
1
1
1
1
Unlimited
Number of sites
1
1
1
2
Unlimited
Number of urls
50
200
3,000
50,000
Unlimited
Number of content objects
1,000
1,000
10,000
Unlimited
Unlimited